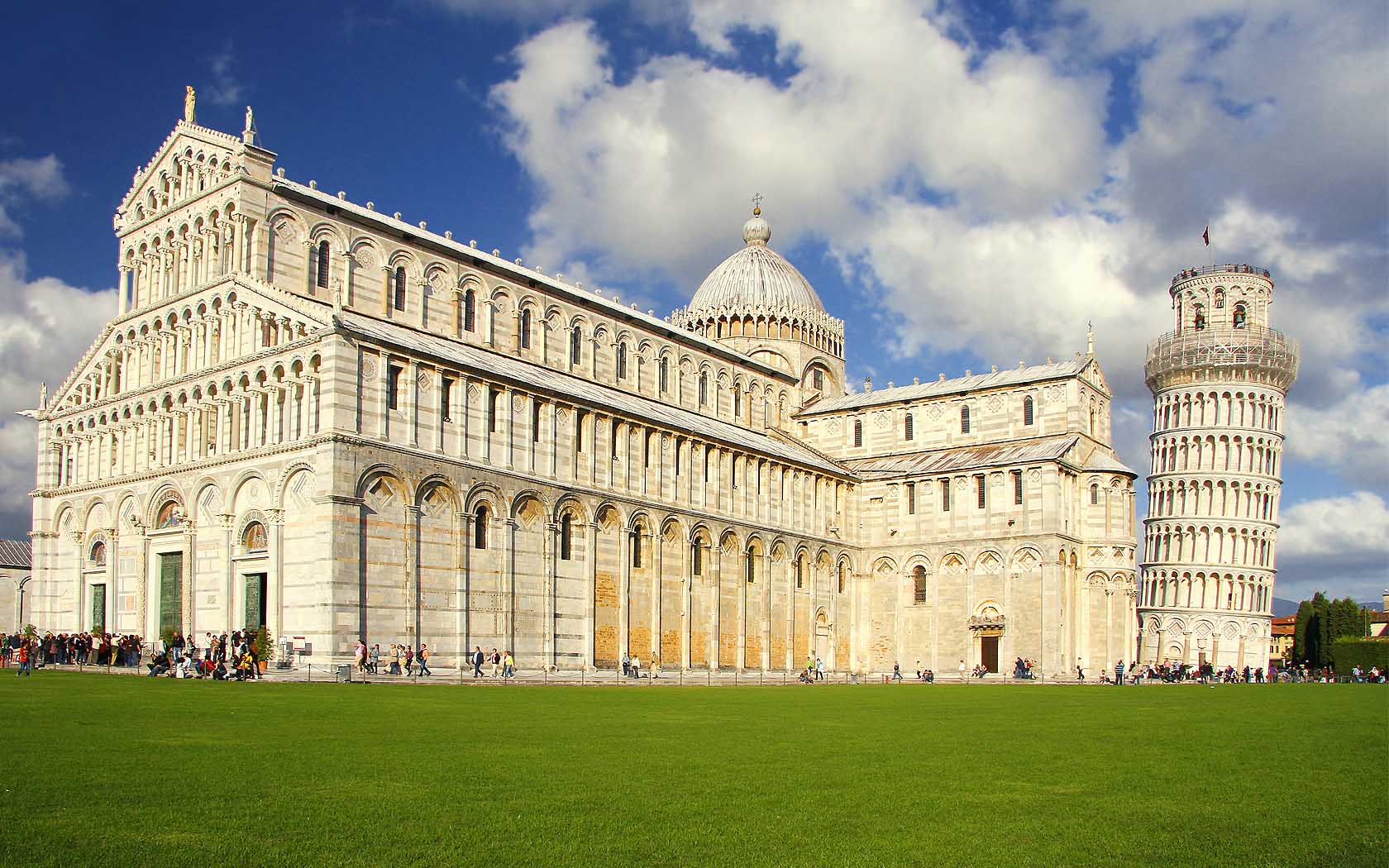 Pisa
Pisa and its Piazza dei Miracoli have always been a fundamental stop on any trip to Tuscany. Despite the overwhelming presence of tourists from all over the world, who sometimes seem to have arrived here for the sole purpose of pretending to hold up the Leaning Tower – this sacred place still emits a timeless, evocative and powerful beauty.
Pisa vaunts thousands of years of history (the city's name dates back to the Etruscan age and alludes to the "mouth" of the Arno), reaching a peak during the age of the Maritime Republic, a period that turned the city center into a treasure chest of artistic gems.
Among these, the Romanesque and Gothic churches stand out, in squares and palazzi that enhance the neighborhoods marked by lungarni (riverside streets) and age-old roads. Wandering through the centre also offers an education in famous university campuses, whose importance has remained steady through the centuries.
Discovering Pisa means getting lost in squares packed with students who fill up the nighttime locales, bringing new life to the medieval city. Propping up one of the little tables in the bars of piazza delle Vettovaglie or piazza della Pera is a lovely way to spend an evening, and meandering through the hidden alleyways and riverfront streets means coming upon architectural gems such as Santa Maria della Spina, the headquarters of the Scuola Normale in Piazza dei Cavalieri, the exhibitions at Palazzo Blu, and so forth. Eventually you'll inevitably end up being drawn to the magnetic Piazza dei Miracoli, where every element is unique and hides secrets that add mystery to the general splendor. Begin with the Baptistery (and its unique acoustics – if any lucky people among you get the chance to attend a concert inside, you'll hear the walls act almost as an instrument, with sounds continuing to echo and bounce up to a minute after they have been sung). Next, to its left is the 130-meter Camposanto Monumentale, which faces the piazza and contains 43 arched sections. The Cathedral is an absolute masterpiece of Romanesque-Pisan architecture, built beginning in 1063; behind it stands the celebrated Leaning Tower.
But there's more to Pisa than its historic centre. One unexpected delight when visiting is exploring the nature that surrounds the city, starting with Parco Naturale di Migliarino, San Rossore and Massaciuccoli, which extends along the coast from Viareggio to Livorno.
June is a great time to visit the city because Pisa hosts numerous local, traditional festivities, including the very famous Luminara, the Palio di San Ranieri, the Gioco del Ponte (Battle on the Bridge) and the Maritime Republics Regata (Regata delle Antiche Repubbliche Marinare), a centuries-old tradition of the Pisan Republic that, every four years since 1956, has revived a battle between the vessels of the ancient republics.