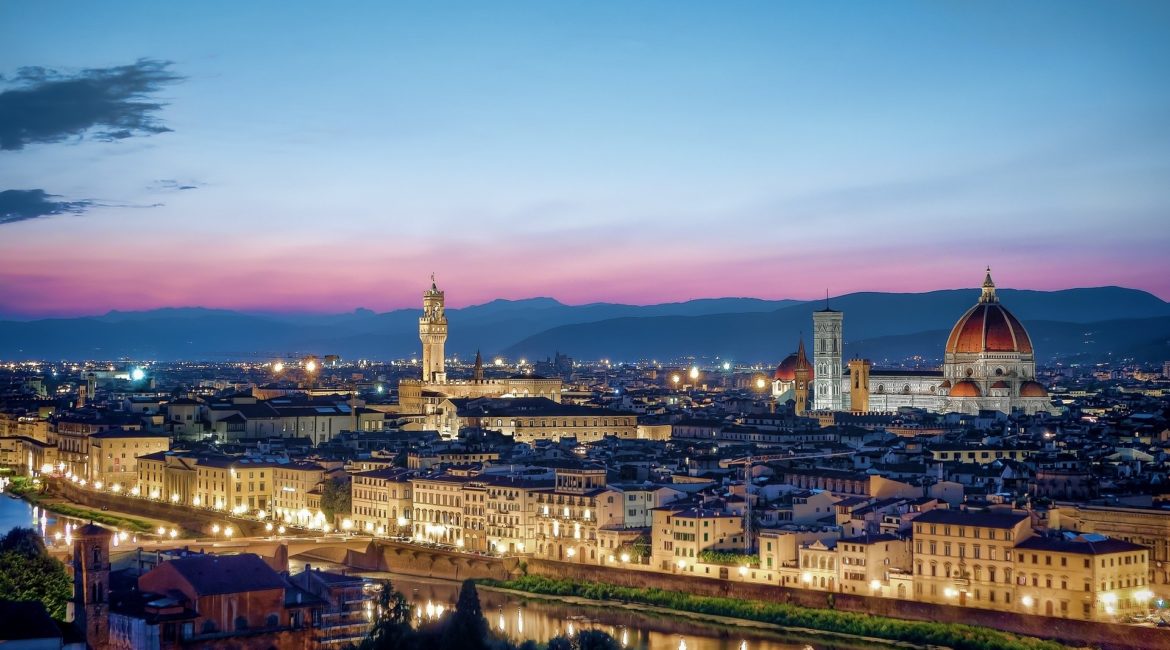 Firenze
If you are visiting Tuscany you cannot miss Florence. The Renaissance city is a treasure trove of art with an astonishing contemporary vibe. Beyond the extraordinary artistic heritage, a testimony to its centuries of civilization, the best way to enjoy Florence is to stroll along the riverside avenues at sunset, or to get lost among the city's myriad alleyways of the bohemian Oltrarno or the narrow little streets of San Niccolò, where it feels like you have ended up in another time along its centuries-old walls.
Discovering Florence means taking the very same steps as legendary figures like Dante, as you turn a corner and find yourself in front of his house and in constant contact with a bonafide concentration of medieval and renaissance art. Florence, home to Cimabue and Giotto, the forefathers of Italian painting; Arnolfo and Andrea Pisano, the first exponents of the Renaissance; Brunelleschi, Donatello and Masaccio, who birthed the Renaissance; Ghiberti and the Della Robbia, Filippo Lippi and Beato Angelico, Botticelli and Paolo Uccello, and universal geniuses like Leonardo and Michelangelo.
The loggias, the piazzas, churches and even the streets are dotted with their works, but to see these artists at their finest visit the city's exceptional museums. The unparalleled collections of the Uffizi; the Palatine Gallery adorned with paintings of the golden ages; the Bargello, strewn with Renaissance sculptures; the Museum of San Marco, blessed with Fra' Angelico's works; the Accademia, home to Michelangelo's David; the must-see Medici Chapels; Casa Buonarroti; the smaller but equally magnificent museums Bardini, Horne, Stibbert, Romano and Corsini, plus the Gallery of Modern Art; and the extraordinary Museo dell'Opera del Duomo. The list is endless.
Florence is the perfect walking city due to its compactness: as you stroll from the Baptistery to the Palazzo Vecchio, from the Ponte Vecchio to the Pitti Palace, you will be steeped in a world of art but also of fashion. Florence city center (UNESCO World Heritage Site since 1982) is scattered with an eclectic mix of boutique. All of the world's best-known labels have set up business here as the city is a lovemark and landmark for international fashion. When you start to tire of the crowded streets, leave the center behind and head for the hills! A testing climb leads up to Piazzale Michelangelo and San Miniato al Monte – it's worth the effort to experience some of the most soul-soothing and inspiring views in the world with your own eyes.
Among the traditional crafts of the city, the art of creating perfumes stands out. It's an old profession that is still practised today in places like the Officina Profumo Farmaceutica di Santa Maria Novella, Lorenzo Villoresi Boutique and Aquaflor Firenze.