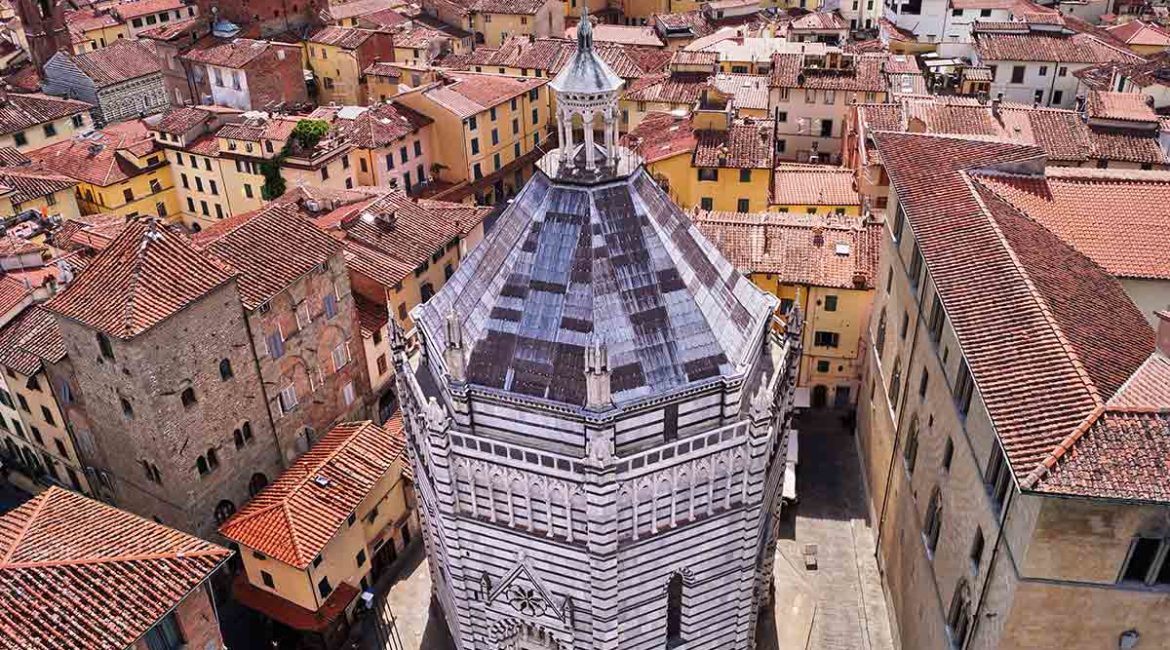 Pistoia
A captivating Roman city, Pistoia is a place that wows art lovers and tourists in search of centuries-old traditions. Poets and writers have always praised its charms, calling it the "city of enchanted stone" and the "city of wide streets and beautiful churches". It's true that the centre offers visitors the chance to explore cloisters and churches, buildings and monuments concentrated around one of Italy's most attractive cathedral squares. At the edge of the city, there is also a multitude of stunning villages and castles all worth venturing out of town for.
Pistoia, the Italian Capital of Culture 2017, enjoys an urban fabric that retraces the boundaries of the three sets of ancient city walls. Piazza del Duomo is still defined by the main buildings that characterized the city's religious and political life over the centuries: the City Hall, Palazzo Pretorio, San Zeno Cathedral, Palazzo dei Vescovi, the Baptistery and the spectacular Bell Tower.
The delightful Piazza della Sala belongs to the oldest part of the city, which also encompasses a diversity of religious buildings (albeit mostly deconsecrated), which testify to the centrality of religion in the history of Pistoia. The ancient centre is part of a road network that more or less follows the oldest city walls. Walking these streets you encounter unexpected and outstanding works of art: in addition to Piazza del Duomo, it's worth paying a visit to the Ospedale del Ceppo, decorated by the majestic "Della Robbia frieze", the Sant'Andrea church, with a wonderful pulpit by Giovanni Pisano, and the Tau church, adorned in beautiful medieval frescoes. Your gaze will be drawn to the black-and-white marble that cover the exterior of the San Giovanni Fuorcivitas church before continuing along via Curtatone e Montanara to reach the San Filippo Neri church complex and the Fabroniana Library.
Exploring Pistoia leads you over the threshold of the third city wall. Each of the four sides open with four gates into the main thoroughfares outside the walls. In the Medici age, this defensive curtain served the odd purpose of protecting the loop of land controlled by the famous merchant family against any uprising by the Pistoia people, therefore reversing the function of the defensive system (the walls had protected an external space from inside the city. Today, passing through the gates means discovering the Pistoia that extends to the surrounding hills, worth exploring along the trails of the Ecomuseo della Montagna Pistoiese, which reveal unexpectedly scenic places, such as the picturesque village of Orsigna (while you're there stop by the old mill Molino di Giamba). It's a wonderful way to delve into the city's most secret and greenest soul.
Music lovers will fall for Pistoia in July, when the blues festival takes over the cathedral square. If folklore is your thing, head to the city for Giostra dell'Orso, with all the pomp of a traditional medieval tournament.
12/11/2019

787

Comments Off

on Pistoia