Elegant beachfront villa  lose to the famous Bolgheri coastline
The property of Villa Allegra with centuries-old pines, typical herbs, shrubs and colorful flowers are fascinating. The villa's park extends over 4 hectares and includes lush lawns, a lush vegetable garden and beautiful paved outdoor terraces that are ideal for al fresco meals and hours of fun. The villa is close to Bolgheri, Castagneto Carducci
The beautiful terrace, paved with teak, leads to the lush lawns below. If you follow the fragrant path that crosses the garden, you will reach your own private access to the golden sandy beach (public). The beach is fully equipped with a practical private beach hut (locked, in which towels / beach utensils can be kept during the entire stay), parasol and 4 sun loungers.
The villa is at the heart of a 5.5 hectare property including independent houses that can also be rented. The grounds are large, with trees and shrubs to improve privacy. Roofs are barely visible from the first floor. All rooms are described in the property description, including the pool that is private to you, with the exception of the entrance gate and driveway. There are separate and private parking spaces for the villa and additional accommodation. On a 200m path to the beach you will pass a beach hut. The pool itself is about 30 m from the house.
The villa can accommodate up to 12 people + 2 (additional accommodation for 2 teenagers or for 1 teenage / young adult and 1 staff according to the information below) in its 6 elegantly furnished bedrooms, all with private or adjoining bathroom. All bedrooms are different, each with character, thanks to warm, sophisticated details such as softly tinted pastel walls, antique-style bed frames,
Canopies and exquisite fabrics. On the first floor of the main building there are 6 of the double rooms, all with spacious, ultra-modern bathrooms. Three of them lead to a pretty terrace with terracotta tiles, from which you have a breathtaking view of the unique landscape of the Maremma.
The main building also includes 1 single room with a private bathroom, accessible from the first floor by a short staircase (this room is suitable for an additional adult or young guest or for staff, not for a child: the bed is accessible via a ladder ) as well as 1 additional single bed and a bathroom in the spacious playroom on the top floor
Giulietta is the housekeeper and responsible for the house and comes to prepare breakfast, clean the living room on the ground floor and sweep the terraces.
Another 2 women take care of the bedrooms and bathrooms in the main house.
Included:

Bed linen and towels, Final cleaning, Housekeeper: 4 hours a day; 7 days / week

Equipment:

Private swimming pool, Internet access, Air conditioning, Fireplace, Telephone, Hi-fi stereo, Satellite TV, Dishwasher, Washing machine

Pool

14 x 7m

Service on request
First purchase. Arrival dinner. to cook. Baby equipment
Cook: according to availability; € 15 / hour + groceriesMinimum stay one week
Please ask for more detailed information
Person
12/14
From € 9,750 per week – minimum stay one week
Please ask for  more detailed information separately.
Rates
01/04 – 04/04
10/31 – 12/19
04/04 – 06/06
09/26 – 10/31
12/19 – 01/09
06/06 – 06/20
09/05 – 09/26
06/20 – 09/05
€ 9.750
€ 11.150
€ 12.450
€ 15.500
Ground floor
Large living and dining room
Kitchen
WC
Laundry
Morning and evening terrace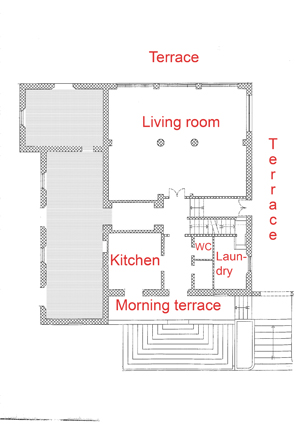 1st floor
6 double bedrooms with en-suite bathrooms
2 terraces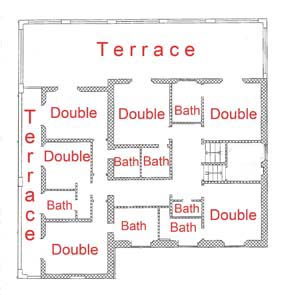 Second floor
Playroom for children
kitchen corner
bathroom (WC and shower)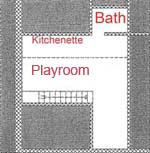 Listing Features
Equipment :
12/14 personsVilla (600sqm) in a large park with 8 bedrooms, 8 bathrooms, private pool, private exit to the sea (200m) pool 14x7; Breakfast service and daily housekeeping.